Growing demand for impact investing

Financial jargon can be hard to keep track of at the best of times and just when you think you've gotten a handle on the latest money mutterings, they change all over again. Ethical investing has certainly suffered through its various definition nuances.
For many, ethical investing is still seen as an approach where investors have to sacrifice potential returns in order to align their investments with their values. This is despite the evolution the sector has been through over the last three decades. From the wide adoption of environmental, social and governance (ESG) standards by mainstream fund managers to the recent emergence of impact investing.
What is impact investing?
Impact investing is an exciting and rapidly growing sector powered by investors who are determined to generate social and environmental impact as well as financial returns.
Impact Investing takes an active approach to making a positive impact by investing in companies whose products and services integrate positive impact creation rather than just negative impact avoidance. Impact investing also adds another element: the ability to measure the effect of the investment.
A booming market
According to this year's annual member survey from the Global Impact Investing Network (GIIN), respondents collectively manage over $502 billion in impact investing assets, a figure which serves as the latest best-available 'floor' for the size of the impact investing market. In 2017, this figure stood at $114 billion.
A heightened interest awareness of climate change is one significant driver as are corporate scandals such as the Volkswagen diesel emissions episode. These concerns and poor practices irk ethically-minded investors.
Do investors have to sacrifice returns to make an impact?
It's a common misconception that investors have to give up financial returns to make a positive impact. Since their launch in 2012, the Positive Impact Portfolios have demonstrated that you don't need to sacrifice returns when you want to do good. For example our most popular, the balanced risk profile, is up 72.9% from inception (August 2012) as at the end of May – an annualised gain of 8.3% per year.
Indeed, impact investing favours companies that are trying to do good and run their businesses in a sustainable manner. Such companies avoid fines and other penalties; they have stronger relationships with their customers, suppliers and employees. Furthermore, they tend to operate in emerging sectors with high-growth potential.
The graphic below illustrates how positive impact can be measured.
How to invest
It's been close to seven years since we launched our Positive Impact Portfolios and they have been a terrific success, both in terms of popularity and performance, amongst investors.
Within the sector, we have seen a number of new fund launches over the past twelve months. In some cases EQ is playing a key role in bringing these launches to the UK by positioning the Positive Impact Portfolios as a seed investor.
For any advisers interested in impact investing, take a look at the information available on the EQ Positive Impact Portfolios via DD|hub.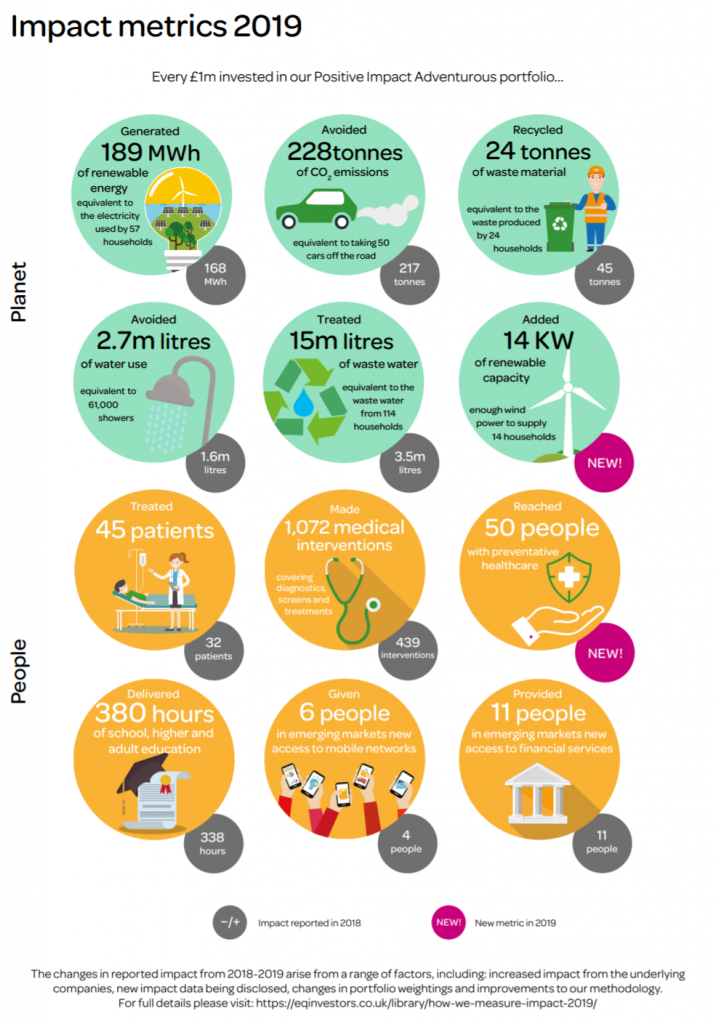 Damien Lardoux, Head of Impact Investing , EQ Investors